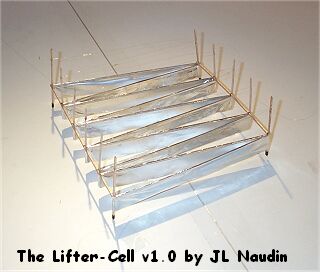 The Lifter-Cell concept: Towards modular thrusters...
By Jean-Louis Naudin


Cliquez ici pour la version Française


created on January 27th, 2003 - JLN Labs - Last update January 28th, 2003
Toutes les informations et schémas sont publiés gratuitement ( freeware ) et sont destinés à un usage personnel et non commercial
All informations and diagrams are published freely (freeware) and are intended for a private use and a non commercial use.
---
The Lifter-Cell v1.0 introduces the concept of modular thrusters. All the previous tests that I have conducted about the Lifter have fully proved that a Lifter can be easily scaled up ( i.e. see the Lifter " Maximus ][ " ).
So, I have decided to build a new modular design, the Lifter-Cell, which must :
have a very simple shape ( squared ),

be easily and quickly built,

have a light weight,

be easily assembled into large modules so as to build big thrusters pannels which can be used for flying craft design.
The Lifter-Cell v1.0 design and its evolutions are shown below :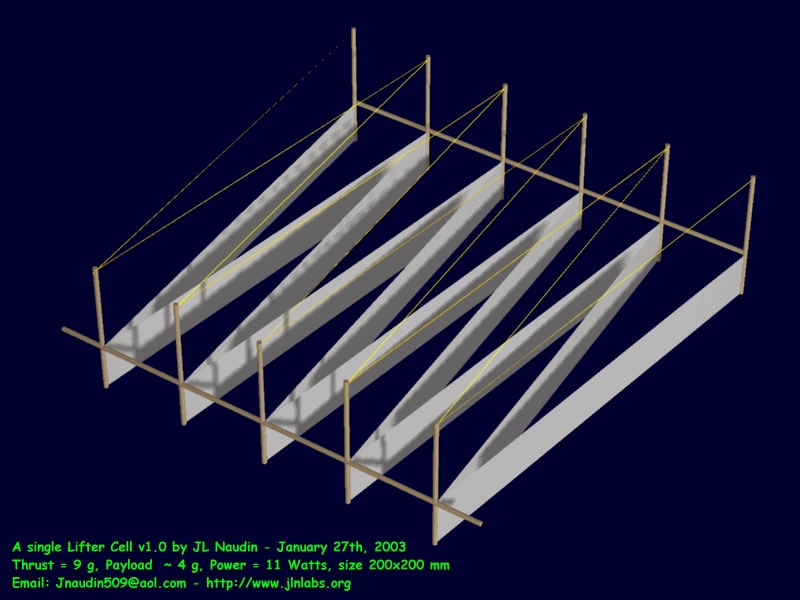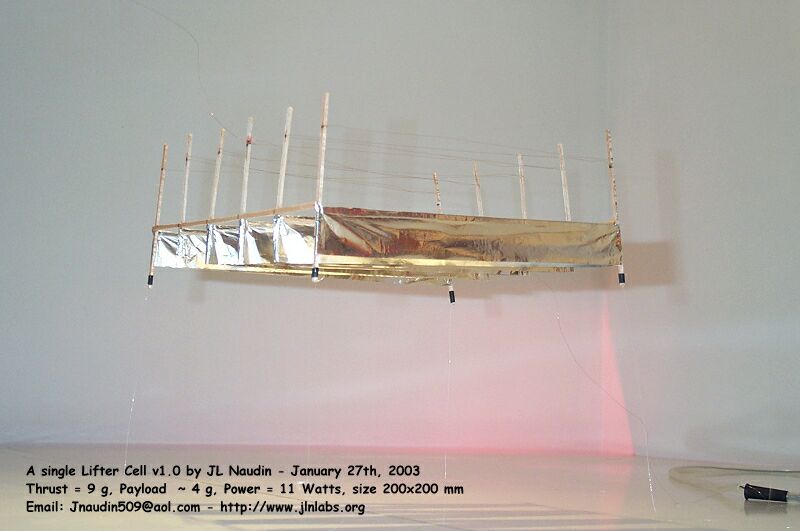 When the HV power supply is swiched on, the Lifter -Cell v1.0 goes upward quickly and remains very stable.
The Lifter-Cell specifications
Size : 200 x 200 mm,

Aluminum armature : 12 µm thick and 20 mm height,

Thin coper wire : 1/10 mm diameter.

Gap between electrodes : 35 mm.

Total height : 55 mm

Lifter-Cell weight ( without payload ) : 5 g
| | | |
| --- | --- | --- |
| Voltage ( DC, not pulsed ) | Current | HV Power |
| 21 KV | 0.55 mA | 11.5 W |
See the video of the Lifter-Cell in action
To see the video, the free downloadable RealPlayer is required


You may download free the RealPlayer 8 Basic at : http://proforma.real.com/real/player/blackjack.html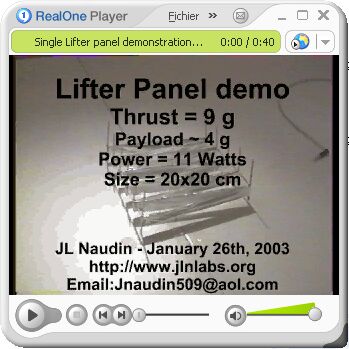 Click on the picture above to see the video ( 864 Kb )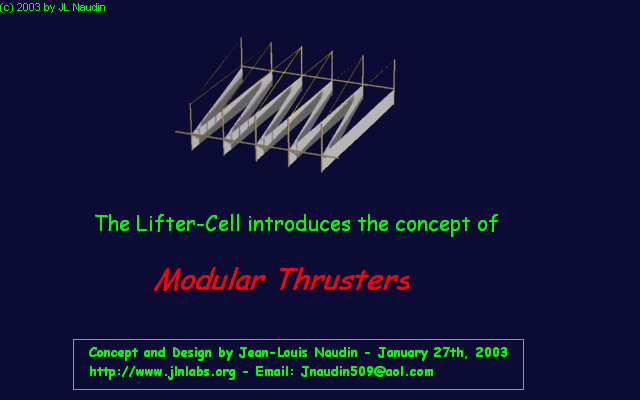 Now, the Lifter-Cell v1.0 introduces the concept of Modular Thrusters...
---

Email : JNaudin509@aol.com
---
Return to the Lifter project (

English version )
Sommaire du Projet Lifter (

version Française )